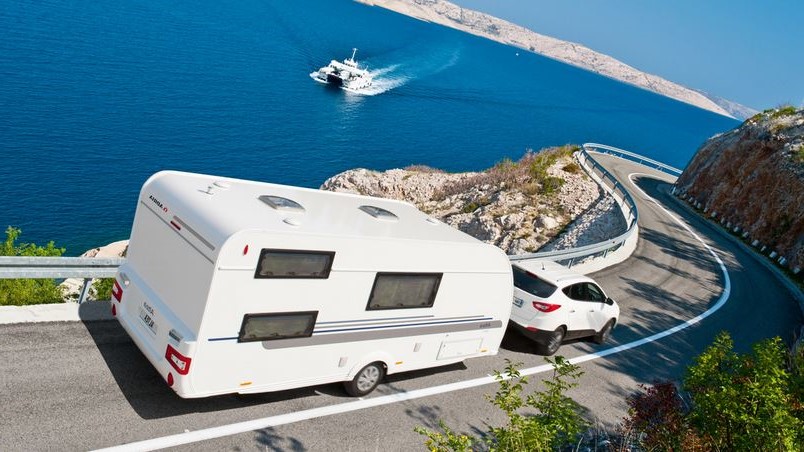 Driving license category B + E – how to get it and how much does it cost?
Preparation for the BE driving test
Car and trailer on BE exam
Road safety tips and licensing rules for drivers to tow light trailers.
Whether you are towing a trailer for business or domestic reasons, it is important to know your legal obligations and make sure that you are not driving or towing a trailer that your license may not cover.
Before towing a light trailer, it is important to understand which towing vehicle and trailer combinations you can drive based on your driving license. It is also important that you determine the capacity of your vehicle and the capacity of your trailer.
Light trailers are trailers with a maximum mass (specified by the manufacturer) not exceeding 3500 kg. Such trailers typically include everything from small home trailers to general purpose trailers, including flatbed or plant trailers, car transporters, caravans, horse stalls, and livestock trailers.
Driving license and licenses
It is important to distinguish between the Driving License (which is a full driving license) and the Student Permit, which is the permit issued to students to enable them to learn to drive. Both documents have different permissions.
A category B driving license entitles you to drive a car, van or 4 × 4 vehicle with a maximum mass (specified by the manufacturer) of no more than 3500 kg and designed and built to transport no more than eight passengers in addition to the driver. You may tow a trailer with a maximum mass (again specified by the manufacturer) of not more than 750 kg, or, where the maximum mass is more than 750 kg, the combined maximum mass of the towing vehicle and trailer is not more than 3,500 kg.
Driving license of category BE authorizes to tow a trailer with the combined maximum mass of the towing vehicle and the trailer exceeding 3500 kg.
In general, a category B driving license does not entitle the holder to tow a horse trailer or livestock trailer as the total maximum weight will exceed 3,500 kg.
The holder of a Category B Learner's Permit may not tow any trailer, whatever its size.
Trailer safety
Also consider the following tips before embarking on a journey with a light trailer. If you follow this, you can rest assured that your trip will be much safer. If possible, you should store the trailer on the property or in a security building near your home. Record the Vehicle Identification Number (VIN) which can be found on the manufacturer's plate. This number is usually stamped on the trailer's chassis. You should also consider putting your own unique tag on the trailer to help you identify it in the event of theft. It can be an effective deterrent. Be sure to take photos of your trailer, including the manufacturer's plaque and any unique markings you have placed elsewhere.
The usefulness of the trailer
If you are towing a trailer, it is your responsibility as the driver to ensure that both the towing vehicle and trailer are mechanically safe and functional, fit for the purpose and legally compliant with all relevant road traffic regulations, i.e. the tires are of the correct depth. tread and free of defects, lights and brakes work and hitch is in good condition. Remember, to be fully compliant, the towing vehicle must be taxed, insured and pass the roadworthiness test – that is, NCT or the Commercial Vehicle Roadworthiness Test (CVRT) respectively.
Coupling and uncoupling
Before attaching a trailer, read the relevant sections of the vehicle and trailer owner manuals. Do not attempt to connect or disconnect the trailer yourself until you are familiar with all the steps and safely complete them. All drivers towing trailers are responsible for learning how to safely attach / detach a trailer. As with any manual handling task, proper training and instruction, as well as common sense and the use of proper techniques, will reduce the risk of injury. For example, should a trailer be loaded before or after it is hitched to the towing vehicle? If possible, it makes sense to connect an empty trailer to the towing vehicle.
Loading and unloading
Loads must be evenly distributed and securely lashed. Unevenly distributed loads will reduce the stability of the vehicle combination and increase the likelihood of an accident. The loads should also be adjusted so as to keep the front mass (ie the weight exerted by the drawbar of the trailer on the coupling) within the limits specified by the manufacturer of the towing vehicle. Make sure you are familiar with safe charging practices and always follow them.
Anticipating danger
Remember that your vehicle will handle differently when you are towing a trailer, especially when the trailer is loaded. Therefore, you need to be extremely careful and drive more defensively while expecting a trailer effect. For example, you need to ask yourself if your braking distance has been increased – in most cases the answer will be yes.
Preparation for the BE driving test
If you do not have a full category BE driving license and want to tow trailers with a maximum weight exceeding 750 kg or combinations of vehicles where the combined maximum weight of the vehicle and trailer combination exceeds 3,500 kg, you must pass a practical driving test. If you have never passed the theory test in Ireland, you must pass it before you can apply for a BE category. Once you have obtained your apprentice's permit and before applying for a driving test, do lots of training and drills with an RSA approved driving instructor (ADI). Click here to find an ADI that provides training in the BE category. Your ADI will assess your knowledge and skills and develop a training plan to help you practice and prepare for your practical driving test.
Finally, remember that the maximum speed limit for a vehicle towing a trailer is 80 km / h, and this also applies to roads where the speed limit on road signs is higher. As always, drivers are subject to the lowest speed sign, so it will not always be possible to travel at 80 km / h
Car and trailer on BE exam
Caravans are not accepted for the BE test.
Assembly consisting of a category B test vehicle, which should be (a) at least 4.25 meters long or (b) a four-wheel drive vehicle and a trailer with a maximum authorized mass of at least 1,400 kg but not exceeding 3,500 kg, capable of reaching a speed of at least 100 km / h, which does not fall into category B. The load compartment of the trailer must consist of a fixed, closed body that is at least as wide and as high as the motor vehicle and at least 2.4 meters long . The closed body may also be slightly smaller than the towing vehicle, provided that rear view is only possible with the towing vehicle's exterior rear-view mirrors. The trailer must be presented with a true sum of a mass (actual trailer weight including necessary load) of at least 800 kg, taking due account of safety, stability, manufacturer guidelines and the legal restrictions of the combination.
Further information
We have prepared a brochure entitled "Road safety rules and licensing rules for drivers with light trailers" (PDF). It provides practical advice and tips and is an indispensable reference point for those who tow light trailers.
The headings under which advice is given include: Driving license and entitlement, roadworthiness of the trailer, coupling and uncoupling, loading and unloading, road safety, trailer safety, and finally BE driving test preparation. The brochure is also accompanied by a series of short "Show-Me-Tell-Me" films devoted to these topics. They can be viewed on the RSA YouTube website – www.youtube.com/rsaireland